The Founders' Scholarship is an annual scholarship set up as a benefit for members and their children, as well as children of parents who are employed by an ITA member. The scholarship recipient receives $2,500 on the second and third year of the winner's education.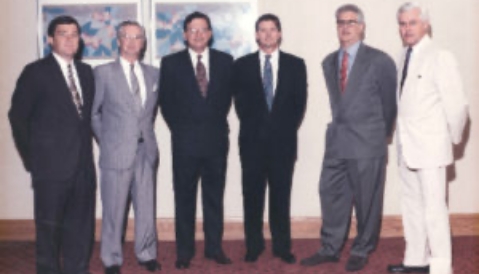 Scholarship Criteria
Must be the child of an employee of an ITA Member Company
Must have completed their first year of college.
Minimum of a 3.5 GPA
Three letters of recommendation
List their extracurricular activities and awards
Write an essay stating their educational objectives and how it relates to their planned career
The Founders' Scholarship was established in 2015 by the ITA Board of Directors along with the Educational Foundation to further our commitment to education and our industry's future. This scholarship was created to honor our Founding ITA Board of Directors and Members.
Founding Board of Directors
Pete Thompson
Terry Baxter
Tom Muzekari
Tom Forrester
Lee Kabat
Fran Luedtke
Founding Members
American Silk Mills
Covington Fabric & Design, LLC
David Rothschild Co., Inc.
J.B. Martin Co., Inc.
P. Kaufmann Fabrics
Richloom Fabrics Group
Valdese Weavers, Inc.
The first Founders' Scholarship was awarded at the ITA Awards Gala in December 2016 to Emma Becker. At the time of scholarship selection, Emma was a high school senior in the Tiverton School District. Beginning in the Fall of 2017, Emma will attend the University of Rhode Island with the goal of becoming an actor and educator. She is the daughter of Paula Becker, who is employed by ITA member, Regal Fabrics, Inc.
The second Founders' Scholarship was awarded to Harrison Garcia. At the time of scholarship selection, Harrison was a high school senior at Clarkstown High School North in New City, NY. Beginning in the Fall of 2018, Harrison will attend Northeastern University where he plans to double major in Biology and Business at Northeastern's College of Science and D'Amore-McKim School of Business. Harrison says "I always dreamed of learning about and conducting scientific research on the improvement of people's health and on the overall health of our society; this scholarship will help me achieve that dream." He is the son of Stacy Garcia, President of ITA Member Lebatex, Inc.